Introducing Ichiban Bath Co.
We here at In the Loop are proud to present a new addition to our blog titled, #MakerMonday, in which we spotlight vendors that are participating in our Old Town Night Market events. Each Monday, a maker from our market will unveil their passion, their brand, and some interesting things about themselves that might surprise you! The purpose of this segment is to give thanks and appreciation, while familiarizing our audience with the local artisans which make this event possible!!!!!!
Meet Naki, maker of Ichiban Bath Co.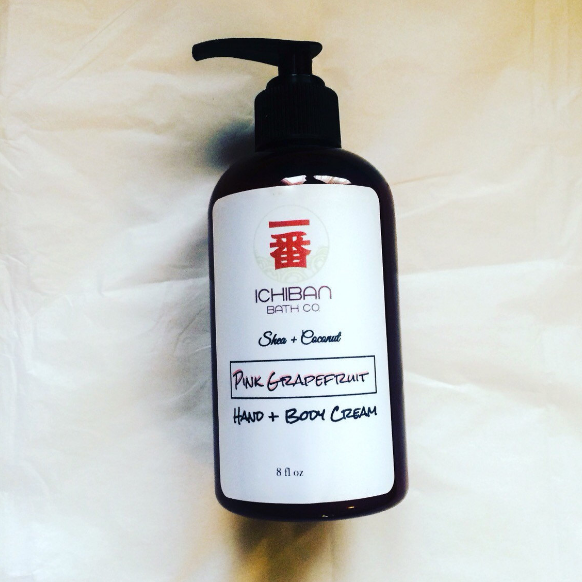 How did your craft making come to fruition?
In 2010 around the holidays, I had purchased a bath bomb kit. I had decided that year, I would give handmade gifts to friends and family. After that people started offering (me) money to make bath bombs as gifts. At that time, my husband was in between jobs and the kids were just toddlers. We just jumped right in and started selling at the local farmer's market.
What is the meaning behind your brand name?
"Ichiban" means #1 in Japanese. I'm half black and Japanese. Growing up in Okinawa, my mom used to take me and my siblings to her best friend's beauty shop. Her friend Mariko did facials and make up. So I was introduced to high end brands like Shiseido at a young age and was taught to only use products with the best ingredients. I research the benefits of each and every ingredient that goes into my products.
Where do you get inspiration?
I get inspiration from everything. Memories. Emotions/Vibes. Music. Often times my childhood and life growing up in Okinawa and Oahu plays a big part. I'm also very receptive to vibes. And I'll blend my own fragrances to convey a certain emotion or vibe. Some scents are comforting, like Brown Sugar + Fig. Other scents, like Hibiscus Tea are beautiful and unique. I also listen to chill music while I work like Alina Baraz. Or DJ Okawari, Ta-ku so overall my scents are refreshing and relaxing.
What's that little thing in life that brings you happiness?
That little thing in life...COFFEE is LIFE. ️ Sometimes I'll make coffee syrups from scratch. I'm a bartender too so I know how to make my own simple syrup. I have a sign on my kitchen wall that was made by Amy of Hollywood & Twine that says "Mug life."
What do you love most about Temecula?
I love the food in Temecula. My family moved to Temecula in 1992. To this day, my favorite breakfast place is Penfold's Cafe. Their biscuits and gravy will make you do a happy dance in your seat. Rosa's Cantina has the best Mexican food. Those two places are treasures that only "true" Temecula folks know about. Their not hyped up like the other spots in Old Town, but they've established their roots.
Advice for any aspiring makers?
My advice to aspiring makers, if you're going to do this as a business, you have to study the trends, and then put your own spin on it. Don't be afraid to set yourself apart. Your brand is your story.
Tell us something about yourself that we would find surprising.
Something surprising? Well, it's not shocking but very few people know that I used to hula dance. I appreciate hula for many different reasons. It demonstrated a different approach to storytelling. And every Kumu hula instructor (Kumu means teacher) had a distinct style. When you see someone dance, you knew who their Kumu was. And I hope to achieve that with my brand.