Introducing SouthWest SoapWorks
#MakerMonday is becoming our favorite day of the week. Today we are excited to share a very sweet soul and great talent with you!
Meet Cheryl, maker of SouthWest SoapWorks!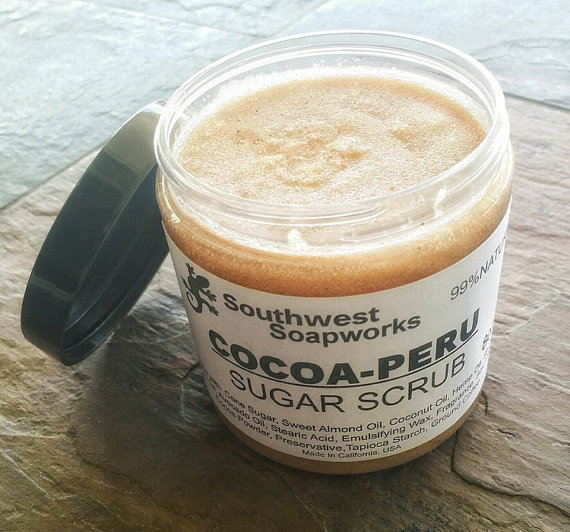 How did your craft making come to fruition?

I started making soap in 2001, after receiving a very rustic ( kind of ugly ) bar from a friend as a gift. I've suffered many years from acute acne breakouts and sensitivity. This particular *ugly bar of soap made my face feel so much better, and really started to clear me up...and stay cleared up. I realized I was on to something very important and good. I did exhausting research, and back then the internet was limited, so I perused books, seeking out knowledge from many sources and makers, and made many MANY costly mistakes but learned a lot. My first bar of soap that came out descent was my Oatmeal Milk and Honey. I made it for me, as I tried to emulate the formula of that first bar of soap I received. From there, I shared that soap with friends and family...and it was well received and requested over and over again. That formula is much more refined, as well as all my other formulas I've developed over the years. I seriously should have a degree in Chemistry by now! That first bar of *ugly soap that I had gotten from a friend turned out to be one of the most beautiful gifts I've ever received.
What is the meaning behind your brand name?
The name SOUTHWEST SOAPWORKS originated out of my love for the gorgeous Southwest of the COUNTRY. We truly have it all here. The beautiful, sandy beaches, the crisp, cool air of the mountains, the fragrant Citrus groves, and the melting pot of cultures. I am drawn to California, because I am a seeker of the hot, arid summers, but am truly drawn to the vast waters of the Pacific that skirt our beaches. There are many places that people may perceive as their paradise, and that is all relative...but to me, there isn't anything like Southern California. I am a lover of all things living, and that includes reptiles. With their scaly bodies, their curious personalities, and their unbelievable ability to resist some of the harshest environments; this kind of analogously plays into the theme of my soaps.
Where do you get inspiration?
Inspiration, for me, is abound everywhere. I can see it, smell it and feel it. If I see a pattern on a woman's dress, or even on my dinner plate, it inspires me. If I go for a walk and smell flowers, or take my kids to the beach and feel sand between my toes...thoughts unfold in my head, like "what if?" Hence the feel of my Emulsified Sugar Scrubs! I have many friends who are also makers in this industry. We naturally, and GRACIOUSLY feed off of one another's ideas and personal stories or experiences. It's very exciting.
What's that little thing in life that brings you happiness?
HANDS DOWN....My family, first and foremost. Secondly, making people feel good, emotionally.
What do you love most about Temecula?
Temecula is a small town of incredibly vast proportions. It is built within a mountainous range of avocado and citrus groves, opposite of our beautiful wine country, whose beauty can easily compete with the likes of Napa Valley! It's Main Street is quintessential and gorgeous. The city has done an amazing job at preserving Temecula Valley's history, yet at the same time is able to draw in the crowds by the droves with its entertainment, small shops, fine dining, fabulous wedding venues, wine tasting, and fun for everyone of all ages. There is just so much to love about Temecula! If a town could appease to the masses, this is definitely one of those places, and you don't want to just pass through!
Advice for any aspiring makers?
My advice for any aspiring makers is to keep pushing forward! Some would suggest, "with blinders on," but I am one to go with eyes wide open...learn everything you can about your craft, and be an expert at what you do. Perfection is relative, so don't be afraid to make mistakes, but study and gain knowledge from those before you, and try to learn from THEIR mistakes first! Don't just follow current trends...break out new ones!
Tell us something about yourself that would surprise us?
Although Soapmaking is my business, my craft, and something I work hard on every day, it would surprise some to learn that I actually went to college to become a Veterinarian. I stayed in the animal nursing program and so became a Registered Veterinary Technician, and have worked in the industry within Riverside County and Temecula, for 17 years. After having my last child in 2009, I shifted gears and stayed home to care for her and worked in the legal field for a short jaunt, and then became a Notary Public. I happen to be a "RIGHT BRAIN" person, and my creative side literally took over and pushed me into really taking my soap-making to the next several levels. Thanks to my husband for his hard work, dedication, and encouragement, my soap business has become a full time job of which I love to wake up to every single day!
Thank you again for giving me an opportunity to tell you who I am and what I am about. I am truly blessed!
~Cheryl